Download PDF
CS 120, automatic vertical cutting machine.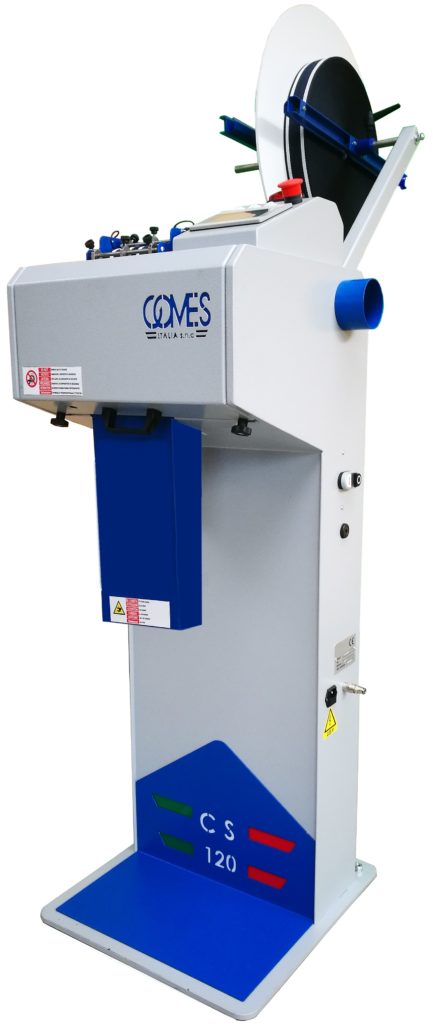 Machine for cutting – in set sizes and quantities – materials such as cords, string, tape, zippers, knitted fabric, synthetic materials, rubberised fabric, velcro, elastic and leather.
The machine has two cutting systems, "cold" by means of scissors blades and "hot", using a heated steel blade sealing system.
The hot cutting can be used with fixed or alternating inclination to the horizontal cut.
Equipped with PLC for the setting of: length, quantity of pieces, inclination, temperature
and time of cutting.
Technical data:
Power supply: 220 V. (110V on request)
Pneumatic supply
Cold cut consumption: 150 W.
Hot cut consumption: 700 W.
Draw speed: 24 m./min.
Maximum material width: 120 mm.
Length of pieces : from 0 to 1000 m.
Electronical "Hot cut" time adjustment: in relation to the thickness of the material to be cut.
Safety devices: alarm buzzer with immediate motor stop in the absence of material and/or in the presence of technical problems;  emergency stop button.
Led signal: presence of power supply.
Built-in suction unit: for the exhaust of any "hot cut" fumes.
Removable plank for easy cleaning and maintenance.
Dimensions: Width: 44 cm. Length: 100 cm. Height: 176 cm. (including roll or spool supports).
Weight: about 90 Kg. (including roll or spool supports).
Cutting of material: to the millimetre
Material cutting error is irrelevant: errors caused by the type of  material chosen are of no importance.